https://www.trickybridge.com/
We want the ones who hang out in public, doing somewhat social things like studying in groups. 
professionals without families, empty-nesters
it is about getting them to want to learn about bridge. 
Op tijd:
1) UitInVlaanderen (per naburige gemeente voor elk Gemeentelijk blad)
Roepsteen / Drossaerd / Orbis / Tichel / ´t Lochterhuys / Klosterhof
2) https://www.internetgazet.be/hechtel-eksel/kalender/
Facebook
3) je bent van … als....
A5 Flyer vanaf 2 maand op voorhand:
Lokale kwissen (Niveau D), flyer per tafel
            - http://www.quiz-kalender.be/provincie-limburg
A4 Affiche vanaf 1 maand op voorhand:
https://docs.google.com/spreadsheets/d/1DukIW_pW40s9Xg2pM56nOX35jwUuQ0ftlVAORPNGGOU/edit?usp=sharing
Facebook Ads
Locatie - Woont in België: Hechtel, Limburg, Belgium (+10 mi) Flemish Region

Leeftijd 18 - 45

Personen die overeenkomen met het volgende Interesses: Escape room, Raadsel, Puzzel, Escape the room, Hogeschool/universiteit, Mathematics education, Quiz, Wiskunde, Bordspellen, Kaartspellen of Brain teaser, Functie: Math Teacher, Branche: IT en technische dienst, Zakelijk en financiën, Management of Calculatie en wiskunde
Gmail Remarketing
....
Wij organiseren bridgeavonden op woensdag, 2x per jaar starten we met een nieuwe groep.
Bridge zit eigenlijk heel eenvoudig in elkaar, na 15 min uitleg ben je vertrokken. En spelenderwijs bouw je het verder op. 
Bridgelessen?
Daar zijn we zoveel mogelijk vanaf gestapt, afentoe is er wel wat uitleg nodig, maar vooral tijdens het spelen wordt de juiste strategie aangeleerd.
Daar kan je dan zo ver in gaan als je zelf wilt. Het spel past zich aan jouw wensen aan. Bridge is niet voor niets erkend door het Internationaal Olympisch Comité.
Het is het enigste kaartspel zonder geluk. 
Board gaat naar andere tafel (en je speelt tegen iedereen)

Dummy op tafel
18-50 jaar?
Internationaal wordt bridge terug meer en meer door jongeren gespeeld. En ik wil dat hier in Limburg ook terug aanwakkeren. Maar iedereen is welkom en verschillende leeftijden en niveaus kunnen perfect met elkaar samenspelen.
Jeugd aanspreken?
de naam bridge inspireert nog altijd

geen geluk, competitiedrang, uitdaging!  kampioenschappen, lokaal, nationaal en internationaal, verschillende niveaus, gemengd, …

clubverband, mensen die sociale dingen doen, zoals tennissen, vereningingsleven,… 

koppels

ik vergelijk het soms met een escape room, raadsels oplossen
leerbridge.be
Vriendengroepen die samen om de zoveel tijd een activiteit doen, vragen me soms een avond bridge te organiseren. Daar geef ik dan de uitleg, en op het eind van de avond hebben zij een score met een winnaar.
Beeldmateriaal?
Info:
Naam
Gemeente
Email
Telefoon
Welke dagen passen?
Ooit gekaart?
Build loyalty by taking the conversation beyond "business talk" and getting to know the decision-maker on a more personal level. Your customers will feel at ease, and you'll gain crucial insights in return. The more you know about your early customers, the more you can target other clients that possess those same traits
Eventueel:
Waar flyer gezien?
Leeftijd
M/V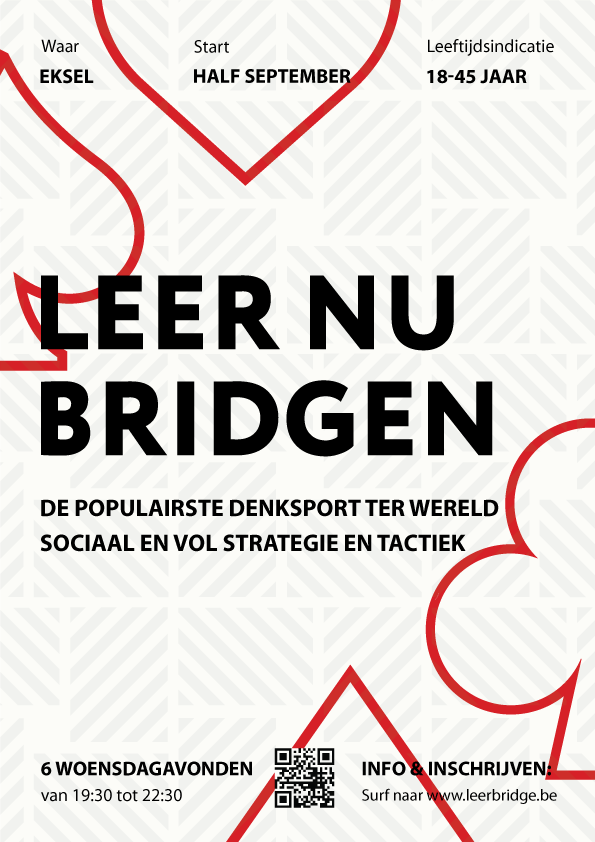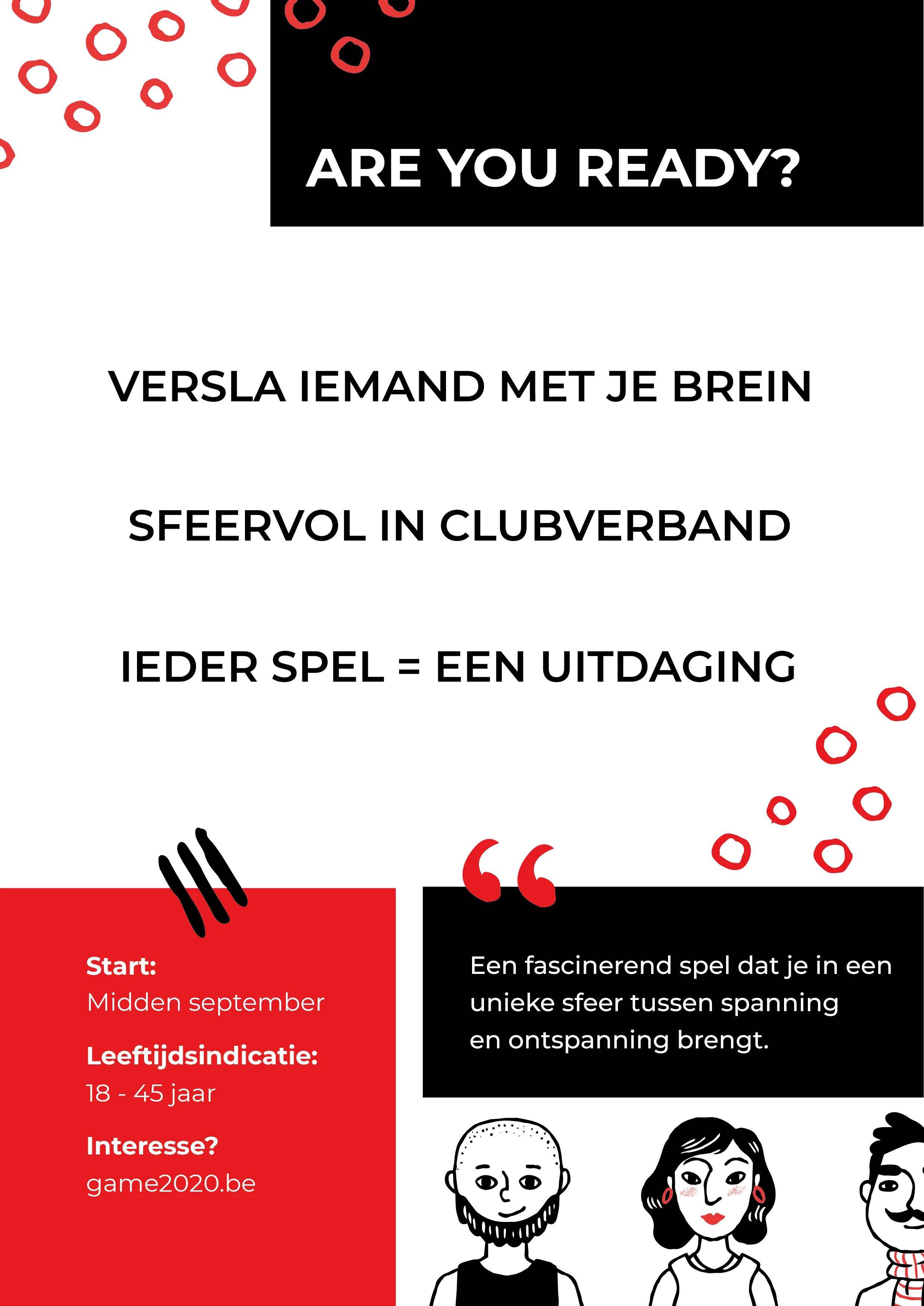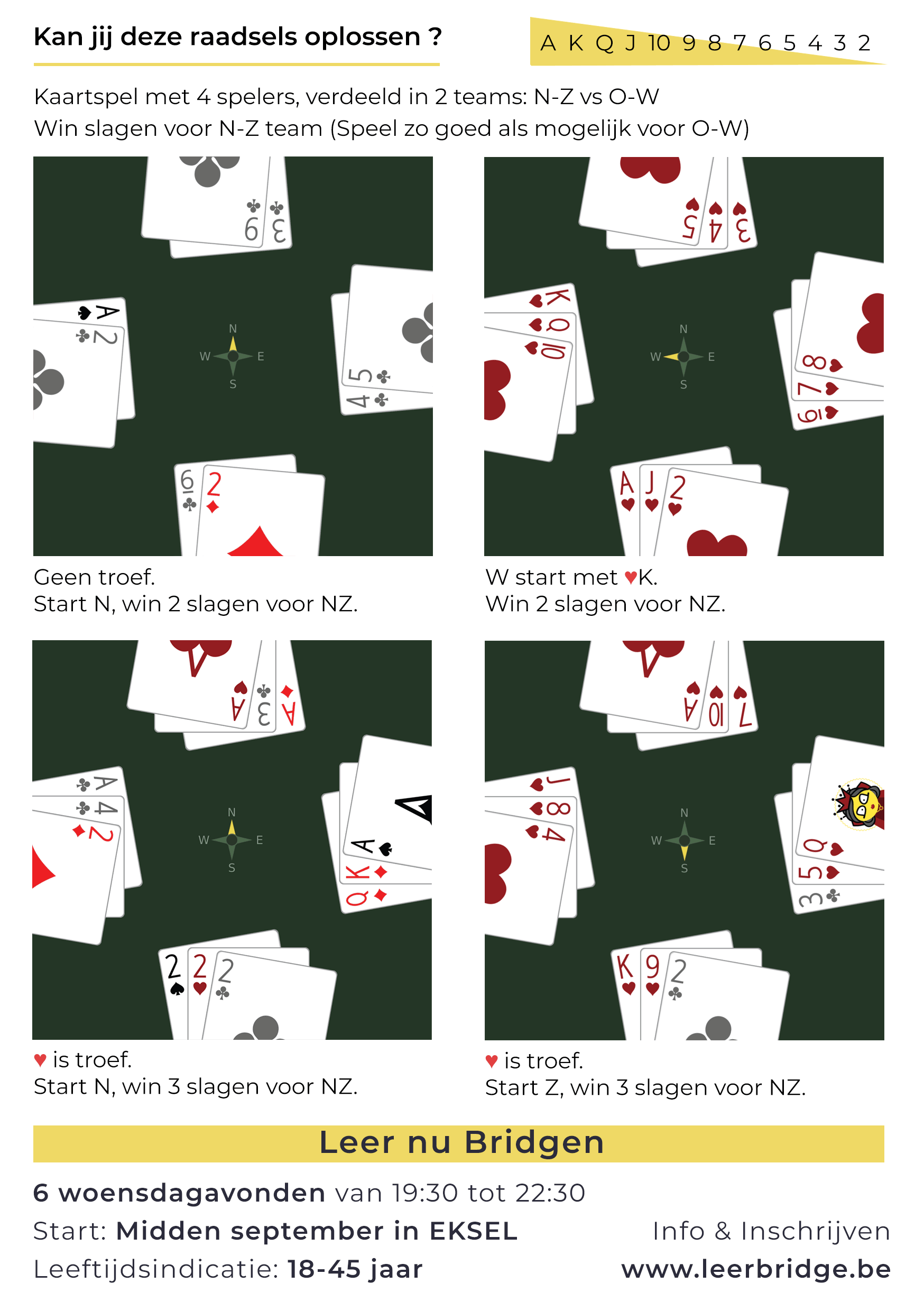 beating someone up with your brain.                     slaan, aftuigen, verslaan
brainy is the new sexy

The game that adapts to your needs / Het spel dat zich aan je wensen aanpast

The ultimate social game for thinkers
Quotes:
The appeal of bridge is that it is an easy game to learn, a hard game to master and you don't have to be an expert to enjoy it.
It's a great way to improve your:  memory  logical thinking skills  problem-solving ability  concentration; and  critical thinking ability
Marketing tips Bridge:
https://www.abf.com.au/marketing/docs/MarketingTipsPromotingBridge.pdf
https://www.abf.com.au/marketing/docs/MarketingTipsRetainMembers.pdf      Lees pagina 7 !!
Conduct 'exit' interviews with people who dropped out during the program, see attachment A !
https://www.quora.com/Whats-the-best-way-to-promote-a-new-escape-room
Customers that love your program will lead you to other potential customers
http://www.bckwadraat.be/documenten/DeZondag.pdf
Free play http://www.bridgebase.com/
https://www.theguardian.com/commentisfree/2015/apr/28/revive-bridge-sport-extreme-naked-kim-kardashian
https://bridgewinners.com/forums/read/youth-bridge-education/we-dont-know-why-more-young-people-arent-playing-bridge/
So you need promotion, which revolves around several things:
1/ Events            free or bridge tournaments with significant buy-ins for big cash prizes. 
2/ Columns and news stories, especially in social media
3/ Local promotion via clubs, teachers, units, tournaments
My impression is that the folks who are so absorbed in their video games/electronics aren't really our target audience. We want the ones who hang out in public, doing somewhat social things like studying in groups. They're more likely to be interested in and maybe even try it themselves if they see our young stars and their love for the game.
professionals without families, empty-nesters
http://bridgewinners.com/article/view/selling-bridge-to-the-youth-market/
Scoring Systems (Game Handling)
- BrianBridge UK (best, even better after my 2 improvements)
- BridgeScorer Pentadtech UK (good)  
- BridgeTab SE
- ArcScorer
- Bridge+More DK (expensive)
- BridgePhone DE/NL (incomplete)   
- BridgePal UK (Free)
- BridgeBoost NL
- ScoreSheet UK
Bridge Scoring Program:
- messerbridge
Compare & pricing http://www.bridgetab.com/pdf/EBU_Review.pdf